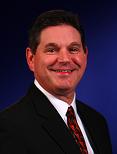 Dean Johnson is Chief Operating Officer for the Georgia Technology Authority.  He led the development of the GAIT 2010 Request for Proposal for IT infrastructure services.
Mr. Johnson is accountable for ensuring that service levels for privatized services are maintained and continually improved and problems with the day-to-day delivery of services are minimized.
Mr. Johnson works closely with GTA and service provider leadership to identify, recommend, develop, implement and support cost-effective technology solutions that adhere to statewide enterprise standards and meet future business needs.  He also oversees quality of service, customer satisfaction, and planning and forecasting of service consumption.
Mr. Johnson has nearly 30 years of experience in providing information technology services to both the public and private sectors. Prior to joining GTA in 2007, he served as the IT Operations Director for the Department of Human Resources (now known as the Department of Human Services). Mr. Johnson worked at DHR for nearly 9 years, where he was responsible for overseeing and directing the work of various IT departments that provide such services as production control, security of mainframe applications, network engineering and development, network administration, network security, data center, disaster recovery, telecommunications, e-mail and help desk support. He also managed vendor relationships in all these areas.