Georgia's 2016 IT Success Stories
National IT award for Georgia's web accessibility initiative
NASCIO State IT Recognition Awards

The Web Accessibility Initiative, which ensures the accessibility of state websites to people with a range of disabilities, receives a first-place award in NASCIO's State IT Recognition Awards.
40 Under 40 list includes GTA leader
Nikhil Deshpande, Georgia's Chief Digital Officer, is named to the list of 40 Under 40 by the Atlanta Business Chronicle.
Georgia scores high for its IT use
2016 Digital States Survey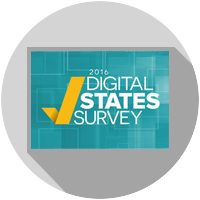 Georgia earns a letter grade of A- in the 2016 Digital States Survey. Only five states receive grades higher than Georgia's.
Georgia places first in the nation in the survey category of Enterprise Information Communications and Technology because of the Department of Transportation's innovative use of communications technologies to monitor and manage traffic conditions throughout the state.
GTA wins StateScoop 50 awards
GTA Chief Operating Officer Dean Johnson is among eight people nationwide to receive a State Leadership award from StateScoop.
GTA's Services Integration Initiative is among 11 projects nationwide to receive a State IT Program of the Year award from StateScoop. The initiative makes it easier for state agencies to access new technology services more quickly so they can operate more efficiently.
State CIO earns Doers, Dreamers, and Drivers award
Calvin Rhodes, state CIO and GTA executive director, is named one of the nation's Top 25 Doers, Dreamers, and Drivers by Government Technology. He is honored for his accomplishments in using technology to improve government operations and help the public sector serve citizens more effectively.
Did you find what you were looking for on this page?