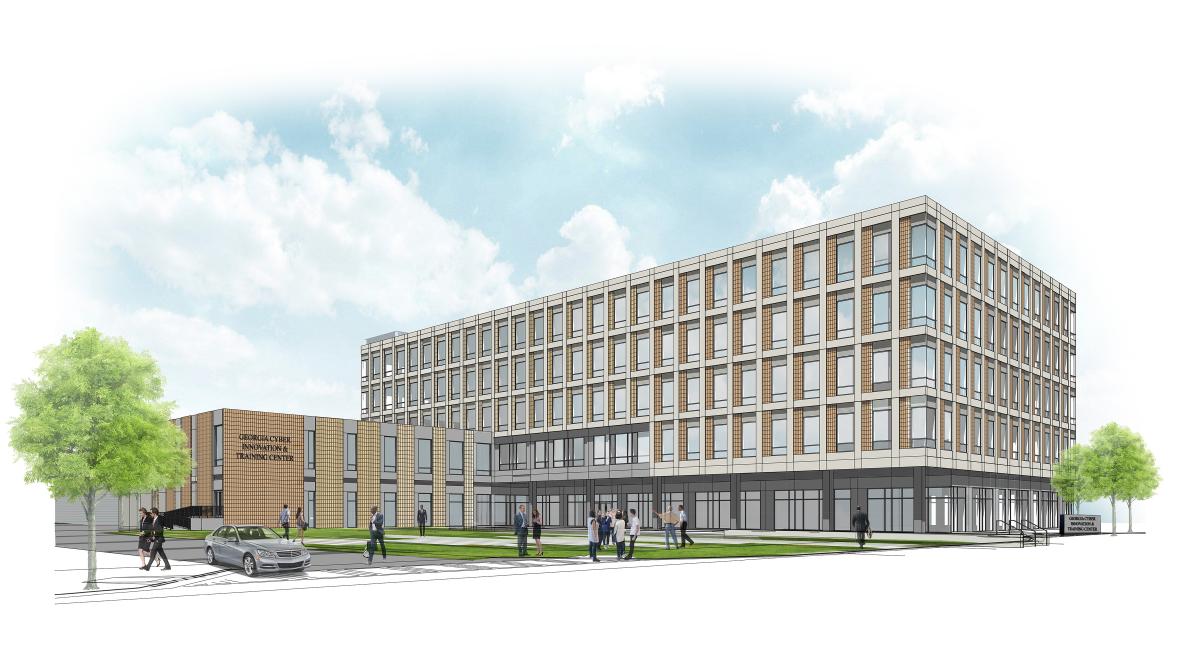 The Hull McKnight Georgia Cyber Innovation and Training Center will be a state-owned facility designed to promote modernization in cybersecurity technology for private and public industries through unique education, training, research, and practical applications.
It will be housed in a 167,000-square-foot facility that is currently under construction near Fort Gordon in Augusta. The center is named in honor of Augusta natives James M. Hull and William D. McKnight. Fort Gordon is home to the U.S. Army Cyber Command, the U.S. Army Cyber Center of Excellence, and the National Security Agency.
Our gallery of architectural renderings provides views of the center.
The center will enhance cybersecurity in both the public and private sectors and serve as an incubator for start-up cybersecurity companies. It will also focus on research and development, tapping into the assets of Georgia's research institutions.
The Georgia Technology Authority is overseeing construction and will operate the center. The groundbreaking took place June 19, 2017, and the opening is scheduled for July 2018.
View our gallery of photos from the groundbreaking ceremony.
GTA hosted a one-hour webinar about the Hull McKnight Cyber Innovation and Training Center on May 11, 2017. The webinar explored Governor Nathan Deal's vision for the center and focused on how local governments will benefit from the center through training and workforce development, better protections for information systems and citizen data, and collaboration with the state's cybercrime unit.
Education and training
The center will provide on-site and virtual training, and include classroom space and a 320-seat auditorium.
Incubator and co-location space
The center will support cybersecurity start-ups by leasing space to private-sector partners and providing tools to help small businesses grow and compete.
Research and economic development
The center will provide space for testing new cybersecurity products. By supporting research and development of leading-edge technologies, it will enhance Georgia's ability to attract cybersecurity companies and help maintain Georgia's ranking as the top state for business in the nation.
GBI Cyber Lab
The Georgia Bureau of Investigation's new Cyber Crime Unit will be headquartered at the center, thereby ensuring a closer alliance among state, federal, and local law enforcement agencies working to address cyber crime.
Cybersecurity and protection
The center will include areas designed to meet the high-security needs of government and related contractors. It will house one of the few state-owned cyber ranges in the nation. The cyber range will ensure a safe, protected environment for training and testing skills, cyber defenses, and cyber weapons. Its capabilities will include interactive, simulated representations of networks, systems, tools, and applications.
The following are partners in the center:
Georgia Technology Authority
Augusta University Cyber Institute
U.S. Army Cyber Command
U.S. Cyber School of Excellence
National Security Agency
City of Augusta
Augusta Economic Development
Georgia Bureau of Investigation
University System of Georgia
Technical College System of Georgia
Georgia Department of Education
Georgia National Guard
Private Sector Partners
Vendor Inquiries
Jones Lang LaSalle is the construction project manager, and M. Arthur Gensler Jr. & Associates, Inc. is the architect. New South Construction is the general contractor. The inital procurement documents are posted below.
Contact GTA for more information.