Birth and Death Certificates
Check one more thing off your to-do list
Order certificates from the Georgia Office of Vital Records for births and deaths that occurred in Georgia from January 1919 to the present.
You can obtain Georgia state birth and death records as certified copies for legal purposes. 
Who can request these records?
Only individuals with specific qualifying relationships, see FAQ below, to the person named on the record can receive a birth or death certificate. Proof of identity and qualifying relationship documentation are required.
Why should you trust ROVER?
ROVER logo.JPG
The Georgia Request Official Vital Event Record (ROVER) service connects you to the Georgia Office of Vital Records. It offers affordable, quick-turnaround options to help meet your needs.
If all correct information is received upon the order, it takes about two business days to get the order processed. Please note that incomplete or incorrect information will delay the processing of your order no matter which shipping method you select.
What does it cost?
There is a nonrefundable fee of $25 per certified copy plus $8 for processing. Expedited shipping is also available for an additional $10 per order.
How to order Georgia birth and death records
ROVER Steps.png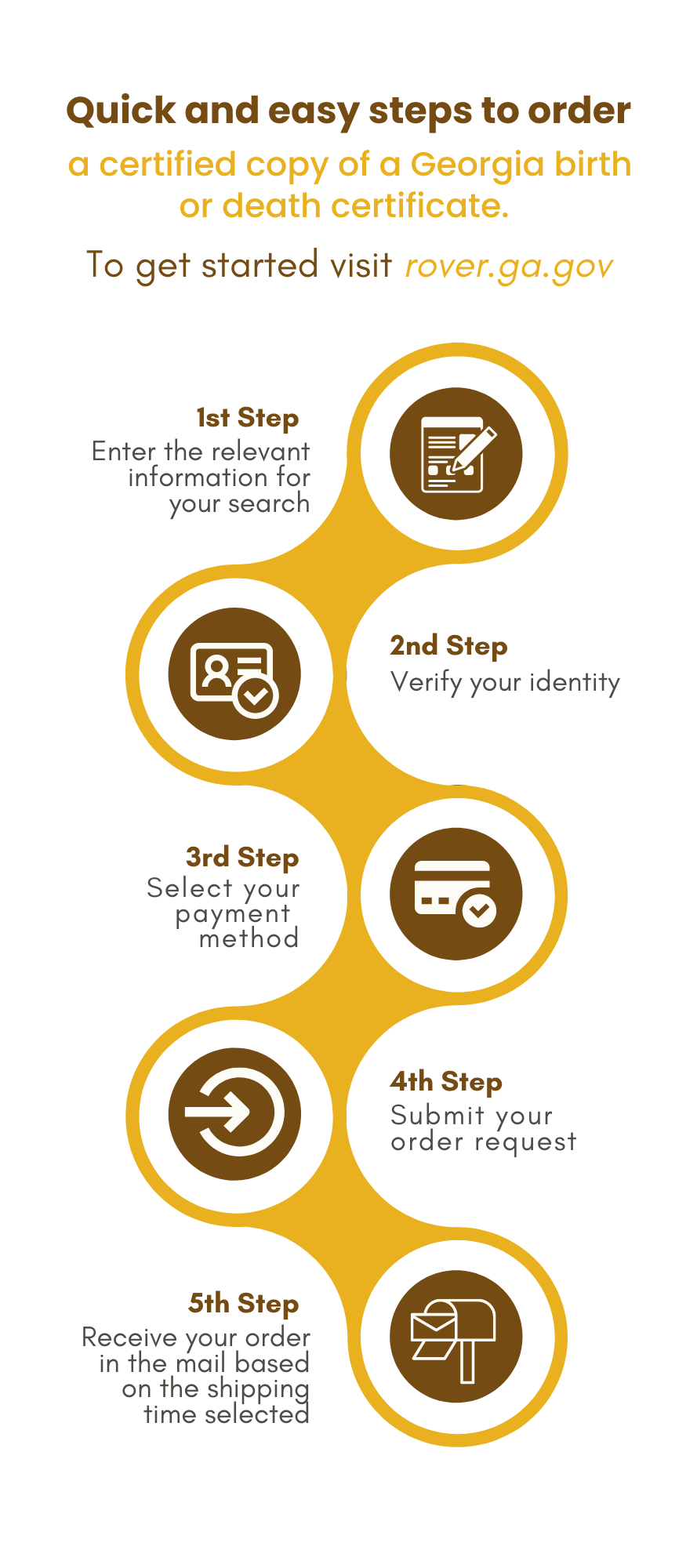 You must complete the following steps to request and receive a birth or death certificate:
Submit an application with required pieces of information
Provide valid government or alternate ID
Provide documentation to prove your qualifying relationship
Pay applicable fees

Fees start at $25
Other fees may apply depending on ordering requests or shipping method
What information about the person will I need?
To order a birth or death certificate, you must provide the following information about the person named on the record:
First and last names
Date of birth for birth certificates or death for death certificates
Race
Sex
For birth certificates, mother's maiden name, first and last, for the person named
How do I use the record outside the U.S.?
To use a certified birth or death certificate issued in Georgia for official purposes in another country, you may need an apostille from the Georgia Superior Court Clerk's Authority. Noncertified informational copies do not meet standards for legal purposes; only certified copies comply with laws to request an apostille. Call (404) 327-6023 for details.
More information
More information about birth and death certificates
FAQs about certificates
Did you find what you were looking for on this page?