Strategic Planning Survey - 2018 Results
In 2018, GTA continued its annual survey of agency CIOs to better understand how agencies depend on IT to meet their strategic objectives. Data from agencies are carefully analyzed and used to inform GTA's efforts at leveraging innovations in a rapidly changing technology environment and ensuring better support for state operations. Agency data are also used to update the Georgia Enterprise IT Strategic Plan.
The first part of the IT strategy survey focused on the following areas related to enterprise IT objectives:
Cybersecurity
Data management
Digital services
A total of 37 agencies responded to the survey. Highlights from the results are presented in the graphics below.
Cybersecurity
To what extent has the Georgia Cybersecurity Strategic Plan been helpful in developing your agency's cybersecurity plan?
To what extent has GTA Cybersecurity Workforce Academy training improved your agency's cyber awareness, preparedness, and resilience?
Cybesecurity Strategy and Awareness.png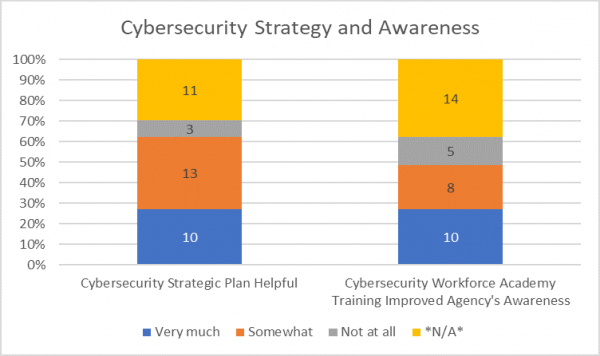 To what extent has your agency adopted any industry data standards for organizing data for use within your agency?
Is your agency sharing agency data with other agencies?
Has your agency assigned a data steward to act as liaison for cross-agency data sharing?
The breakdown of the first question is below. The responses to the second and third questions are that 73% shared data with other agencies and 63% of agency CIOs or IT directors were aware that their agency had a data steward.
Adopted Industry Standards.png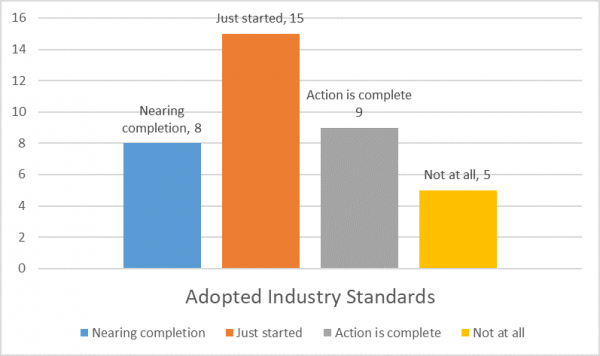 What channels does your agency use to provide services to your constituents?
Thinking about the services your agency provides to citizens, what portion of your agency's transactions will be conducted digitally through a web or mobile interface within the next three years?
How often does your agency conduct formal user studies to improve your digital services delivery decisions?
Channels Used to Provide Services.png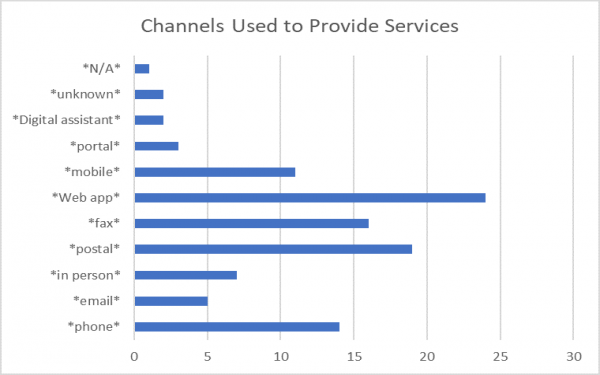 Transaction Portion Conducted Digitally.png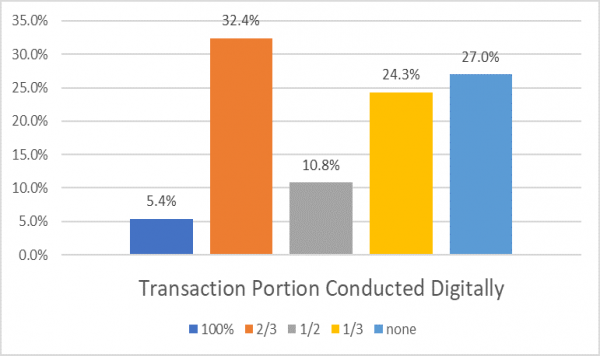 Formal User Studies Frequency.png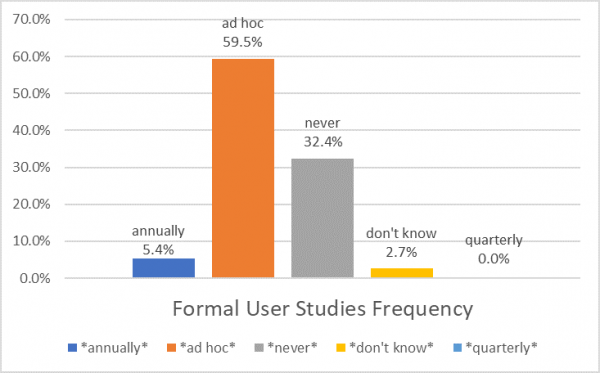 The second part of the IT strategy survey focused on individual agencies' strategic objectives. It asked agencies to rate the importance of information technology in supporting their activities in the following areas:
Automating or improving business processes

Analyzing data for decision support

Sharing information or data with other agencies

Improving citizen access to services (including mobile apps)

Improving the security of sensitive information
Respondents identified 112 IT-dependent strategic objectives. The top three uses of technology in enabling agency strategic plans were unchanged from the previous survey: process automation, data analytics, and improved security. Responses are summarized in the following bar graph.
IT meet Strategic Objectives.png