Information Technology Vision and Strategy
Georgia's vision for information and communications technology is captured in the Georgia Enterprise IT Strategic Plan  2025, the latest update to the state's assessment of issues influencing which technology solutions agencies will deploy in the years ahead. The plan was published in May 2017 with an updated edition published in FY 2020. The updated vision is accessible online at https://gta.georgia.gov/it-strategic-plan-2025.
The state reviewed its technology vision this year, given the dramatic impact of the COVID-19 pandemic on normal business operation. In most cases, Georgia's response to the pandemic has not affected the long-term view of how technology will enable strategic objectives. However, it has shifted priorities and will result in achieving some objectives earlier than expected. These achievements resulted from compressing schedules for high-priority technologies, and no significant delays in any objectives are anticipated. A full review of the Enterprise IT Strategic Plan is scheduled for spring 2021.
The plan is intended to aid Georgia government leaders in making informed technology decisions. It defines IT focus areas and goals and sets the technology direction for the state's IT enterprise.
The Enterprise IT Strategic Plan does not replace the business-oriented strategic plans of individual state agencies but provides a look ahead to help them align their technology with the direction established for the state's IT enterprise.
In developing and maintaining the state's IT vision, GTA collaborates with technology leaders throughout Georgia state agencies to understand their business priorities and gathers insights from other states and the private sector to leverage proven technologies. This work identified the following long-term IT priorities:
Ensuring cybersecurity for Georgia's agencies, citizens, and businesses
Managing a growing pool of data to support state decision makers
Taking advantage of proven technologies to improve interactions between government agencies and constituents
Evolving the portfolio of shared technology services to ensure agency access to the best services at competitive prices
Partnering with the private sector to bring the latest innovative technologies to bear on the state's business problems
Information Technology Governance Continuously Improved
GTA continues to advance its information technology governance processes by annually assessing the effectiveness and strategic alignment of the existing Policies, Standards and Guidelines (PSG) exemption process.
The primary goals of the PSG exemption process are to assure that investments in IT generate business value, while mitigating the risks that are associated with IT implementations. Recent revisions to the PSG process now require agencies to detail the implementation, operating, and maintenance costs that would be incurred during the first three years of the solution lifecycle.
This requirement provides agencies and their leadership with a true cost of ownership and detailed insight to known and unknown risks that may exist. The process also provides valuable data to the enterprise on how to position existing cloud brokerage offerings now available through GTA. The cloud brokerage offerings, along with the revised PSG exemption process, allow state agencies to make IT decisions with a clear understanding of the associated risks and how GTA can assist in mitigating them. 
The goal of IT strategic planning is to help agencies make better use of technologies that support their business needs and the Governor's vision for Georgia. During FY 2020, agencies aligned their IT strategies with Governor Kemp's stated initiatives and their underlying priorities (https://gov.georgia.gov/about-us/initiatives-and-priorities):
Make Georgia number one for small business
Reform state government
Strengthen rural Georgia
Put Georgians first
The IT strategy cycle is a framework for supporting Georgia agencies in their effective and efficient use of technology to achieve the Governor's vision. A collaborative environment where agencies recognize shared objectives and work together to achieve greater enterprise benefits is key to success. GTA serves as a facilitator in identifying common needs, as a technology guide in identifying technology-enabled business strategies that have proven successful in other organizations, and as an advocate for agency solutions that show promise for the enterprise.
The Strategy Cycle is comprised of the following five components:
Strategy Chevrons

Environmental Scan for Technology
Technology scanning is a continuous process of gathering information about how technology may help Georgia state agencies meet their objectives. It identifies what is relevant and shares appropriate findings through periodic reports and presentations. Effective new uses of technology are incorporated into the annual update of the Georgia Enterprise IT Strategic Plan.
GTA relies on numerous sources for information about new business uses of technology, including Gartner, the National Association of State Chief Information Officers (NASCIO), and the Center for Digital Government.
In addition, GTA monitors a broad range of publications and participates in professional organizations and national summits, conferences, and symposia targeting the effective application of technology to business problems.
Survey Agency Priorities
GTA places high value on understanding agency business needs and continues to review agency strategic plans, conduct agency surveys, and hold regular meetings with agencies to ensure a clear picture of the business objectives that drive technology needs. In addition to one-on-one meetings with agency leaders, the State Technology Annual Report Register (STARR) is used to conduct an annual IT strategy survey of all agency CIOs or IT directors.
Refresh Enterprise IT Strategy
As mentioned in the opening section, the Georgia Enterprise IT Strategic Plan provides a vision of future technology use and establishes focus areas for the state's IT enterprise in a multi-year look ahead. It guides agency IT leaders in choosing new technology solutions that align with the state's enterprise IT vision and direction.
Identify Innovation Opportunities
GTA continues to recognize agency successes in using technology to deliver services in new and better ways. Top innovations are recognized at the annual Georgia Digital Government Summit. Examples of these successes can be found beginning in the section titled Technology Innovation Showcase.
GTA works closely with and supports the Governor's Office and the Office of Planning and Budget (OPB). GTA works with OPB to leverage technology in support of business process improvements identified each year by OPB. GTA provides leadership in identifying and adopting proven technologies to solve pressing government issues.
Host Technology/Strategy Summit
GTA's annual Technology/Strategy Summit was cancelled last year due to the COVID-19 pandemic. The summit was first hosted in 2012 and addresses a limited range of high-value technology opportunities or issues. The summit is directed toward both business leaders and technology professionals in state agencies and features presentations by subject matter experts from leading technology companies. The summit may be held as a virtual event in the spring of 2021.
Strategic Planning Survey – 2020 Results
GTA continued its annual survey of agency CIOs in 2020 to better understand how agencies depend on IT to meet their strategic objectives. Data from agencies are carefully analyzed and used to inform GTA's efforts to leverage innovations in a rapidly changing technology environment and ensure better support for state operations. Agency data is also used to update the Georgia Enterprise IT Strategic Plan. The first part of the IT strategy survey focused on the following areas related to enterprise IT objectives:
Cybersecurity
Data management
Digital services
A total of 37 agencies responded to the survey. Selected questions and responses are below.
To what extent has the Georgia Cybersecurity Strategic Plan been helpful in developing your agency's cybersecurity plan?
To what extent has the Cyber Workforce Academy training improved your agency's cyber awareness, preparedness, and resilience?
Cybersecurity Strategy and Awareness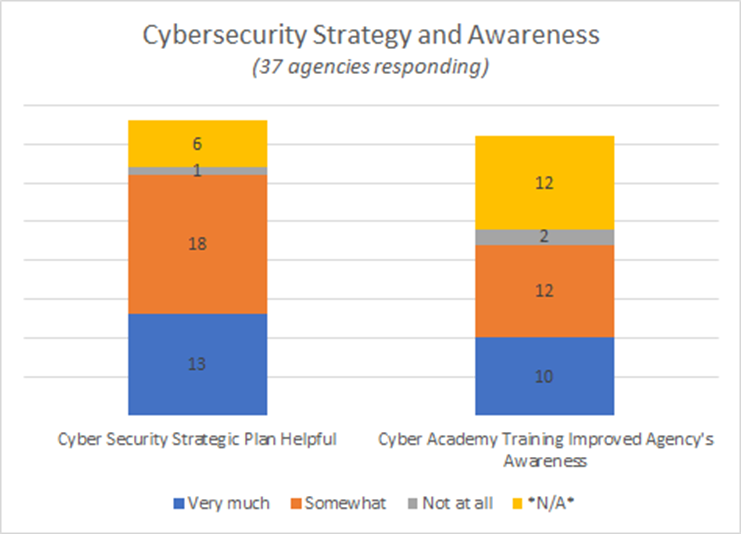 To what extent has your agency adopted any industry data standards for organizing data for use within your agency?
Is your agency sharing agency data with other agencies?
Has your agency assigned a data steward to act as liaison for cross-agency data sharing?
The breakdown of the first question is below. Responses to the second and third questions indicated that 68% shared data with other agencies, and 59% of agency CIOs or IT directors were aware that their agency had a data steward.
Adopted Industry Standards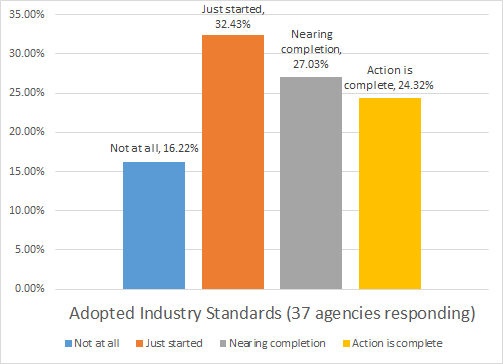 What channels does your agency use to provide services to your constituents?
Thinking about the services your agency provides to citizens, what portion of your agency's transactions will be conducted digitally through a web or mobile interface within the next three years?
How often does your agency conduct formal user studies to improve your digital services delivery decisions?
Channels used to Provide Services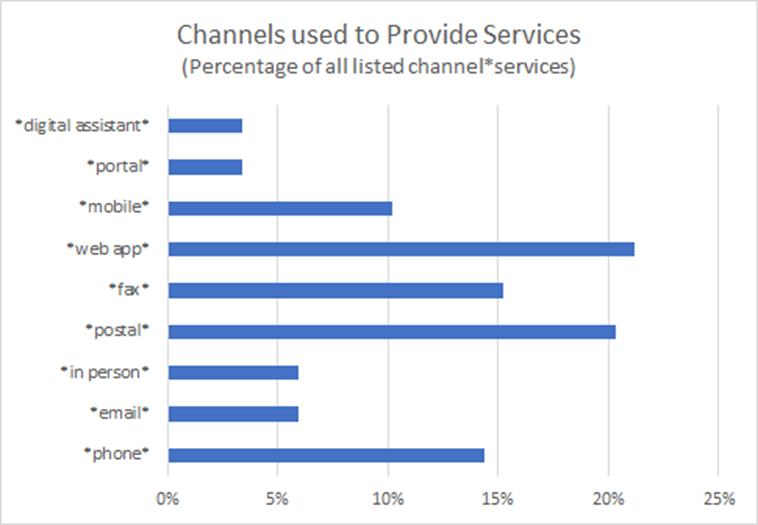 Formal User Studies Frequency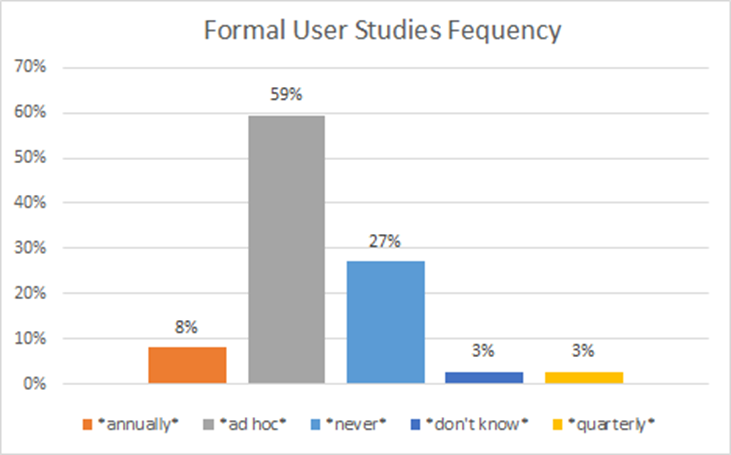 The second part of the IT strategy survey focused on individual agencies' strategic objectives. It asked agencies to rate the importance of information technology in supporting their activities in the following areas:
Automating or improving business processes
Analyzing data for decision support
Sharing information or data with other agencies
Improving citizen access to services (including mobile apps)
Improving the security of sensitive information
Respondents identified 128 IT-dependent strategic objectives. The top three uses of technology in enabling agency strategic plans were unchanged from the previous survey: process automation, data analytics, and improved security. Responses are summarized in the following bar graph.
Importance of IT in success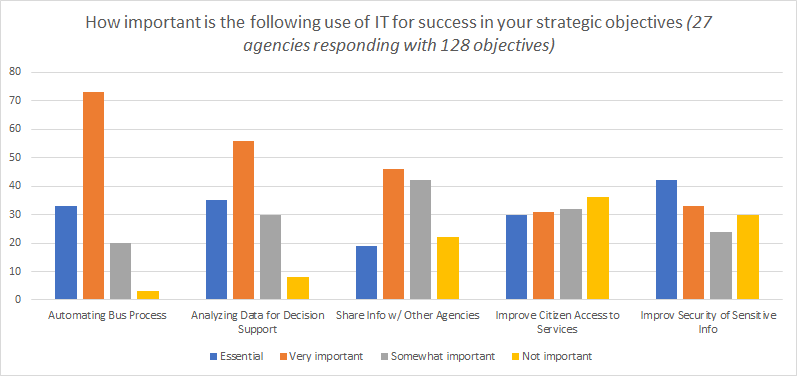 Did you find what you were looking for on this page?